Solving the Affordable Housing Crisis
Posted: Wednesday, March 18, 2015
Josh Brokaw
he first-time apartment hunter in Ithaca doesn't need long to learn the facts as they are often repeated by locals. The vacancy rate is less than 1 percent. Relative to income, housing costs rank eleventh in the nation, just one spot below New York City. For many Ithacans, this was supposed to be the bucolic escape from NYC headaches like finding a decent place to live.
What's needed in Ithaca is more "affordable housing." How do we get some more of that?
Defining Our Terms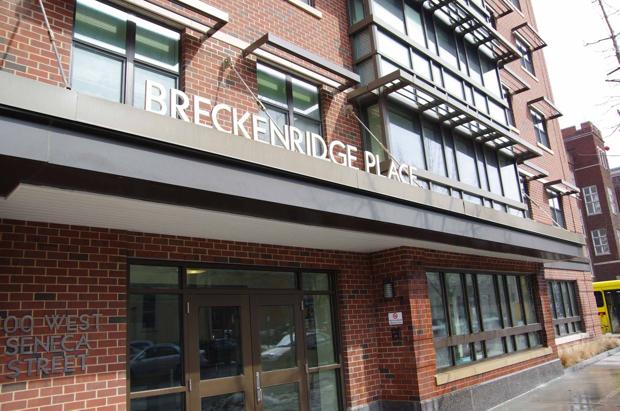 For the purposes of this article "affordable housing" will not mean "public" housing, in the sense of dwellings owned by a government agency. For one, technically, most of the funding for the affordable housing projects presented here comes from money given away by private corporations. People using housing vouchers like Section 8—generally those with families who have incomes of less than 50 percent of the local median income—may live in these developments. So may people with incomes that are more than 50 percent of the local median.
"Affordability is a problem for a lot of people who make the median income or less in this area," said Paul Mazzarella, director of Ithaca Neighborhood Housing Services (INHS). "It's not just the cost of housing, but the relationship of how much money people have to pay for housing. If you come from New York City, Boston, or San Francisco, rents here look low. But people make more money there."
At Breckenridge Place, the 50-unit INHS building opened in May 2014, 31 of the units are reserved for people making half of the area's median income. For a single person, that ceiling is $27,594 and for couples $31,531: salary ceilings that many cooks, students, artists, and experienced reporters have never cracked. There are also units reserved there for people making 60 percent and 90 percent of the median income, and their rents are somewhat more depending on pay: on the whole, apartments there range in price from about $650 to about $1,150 per month.
If there's one point affordable housing developers want to make clear it is that their tenants have full-time jobs.
"Saying affordable housing invokes a response in some people that's a response to a perception or an outdated view of what modern housing is and who it serves and what the demographics are," said Monica McCullough, vice president for housing at Pathstone, a non-profit Rochester developer that assisted in the Breckenridge project. "Sometimes those concerns are valid and grounded in reality, and sometimes those concerns are grounded in stereotypes and fear. When we're proposing a development we're always doing some explaining and educating."
Andrew Crossed is a vice president with Rochester-based Conifer, a multi-state for-profit that built the Linderman Creek campus on West Hill and several other complexes of apartments and townhomes in Tompkins County.
Wherever the development, "the biggest challenge is NIMBYism," Crossed said. "People hear affordable housing, people think low-income individuals, and people say we're not going to support this in our backyard. Just getting support and approvals for projects of our type is a very tall order."
Wait For the Trickle-down
Beyond any fears of new neighbors, there were undoubtedly legitimate local concerns from Spencer Road residents when the Stone Quarry INHS project pictured on this newspaper's cover was in the planning stages in summer 2014. Adding 35 new housing units on a tight road with inadequate sidewalks in an area with about a dozen existing homes might very well be dangerous. Working through those issues is necessary before a developer applies for funding.
"If you're proposing a project and you don't know with certainty you can build it, you're kind of shooting yourself in the foot," Crossed said. "We've had many situations where everything seems to be moving in the right direction, and you get to a public hearing and there's a lot of opposition and everything goes south."
Nick Martinez worked in affordable housing financing in New York and now studies at Cornell's Baker Program in Real Estate. He thinks the size of a city like Ithaca makes building more difficult because the democracy is more direct.
"It's not as easy to get major barriers in the number of people. That opposition gets traction a lot easier in a small town," Martinez said. "In New York [City] there's a ton of special interests that say 'Let's get it done.'"
Achieving even planning approval has one even earlier prerequisite: there needs to be a place to put the new building.
"It takes a long time to get anything built in Ithaca," said Frost Travis of Travis Hyde Properties. "There's not a lot of available land. Even market-rate construction [downtown] is not able to happen without some kind of public assistance."
In Ithaca, where there's so many single-family homes, any affordable housing development likely can't help but increase density, and thus change the "character of the neighborhood." Land acquisition costs make it a necessity to build densely so projects make financial sense.
The ideal affordable development should be somewhere that allows people to cut costs by reducing their commute and putting them close to services, groceries, and whatever they may need. That is, near a downtown.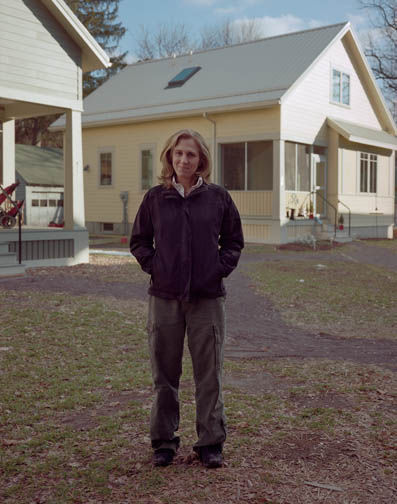 "If I can get you to drop your car because of location, you're now saving $9,000 a year," said Susan Cosentini, who developed the Aurora Pocket Neighborhood on a co-housing concept. "It creates a comprehensive affordability."
INHS policy is to find sites "that allow people to walk or take public transportation to stores, services and recreation," Mazzarella said. "We seek to put our projects in the urban core rather than in a remote suburban or rural area."
With land and approvals in hand, now the building must happen. This will also take money and time, particularly since these buildings are going up for the long haul. Construction costs at Breckenridge were $206,240 per each one of its 50 units. The Stone Quarry site will come in at $195,000 per unit.
"Breckenridge Place was expensive because it is a masonry high rise building served by an elevator," Mazzarella said. "Stone Quarry was built on poor soils that required a more expensive foundation."
"It costs the same to build affordable housing as it does market-rate housing," Travis said. "It's a specialty and a mission."
"There used to be a day when you'd build, and the municipality would put in your infrastructure," Cosentini said. "Water, sewer, those things are crazy expensive. People don't recognize that aspect of any construction project. You have to incorporate that into all your housing prices."
Getting funding for affordable housing is a byzantine process. So much so that some developers feel the market should simply be allowed to bring down the cost instead.
"The theory that relates to affordable housing as it applies to people or developers like myself," said John Novarr, who developed Collegetown Terrace, "if you build enough housing to meet the student demand, then the people who are living the farthest away from campus, in the worst-quality apartments, will ultimately stop doing that. To me in some ways it sounds a little like Goldwater's trickle-down theory, which I didn't really buy, that if you let the rich people get really rich all the leavings will be there for the less fortunate."
Free Money
All the challenges of developing affordable housing discussed so far also apply to a project done with traditional, market-rate financing. Where a traditional developer really says "No, thanks" to the affordable housing game is when it comes to the money—which is strange, because the money is all given free. But not really.
"I go to trade shows for real estate development and people ask me why we mess with the tax codes and the affordable housing industry," Conifer's Crossed said. "It's what we're set up to do. It is a very different business than traditional development."
All the complications have never appealed to Novarr.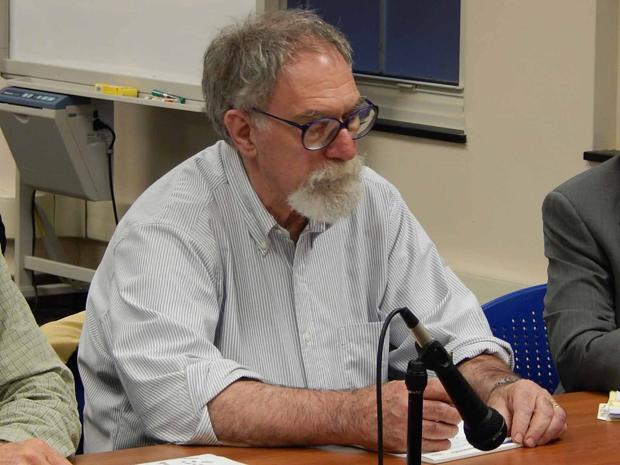 "It's a pretty specialized field," Novarr said. "I suppose if I were passionate about helping the underprivileged, I suppose I could learn it faster than the average guy on the street. The way this stuff is financed is totally different from the way we do things."
The affordable housing that INHS and others build relies heavily on funding received from the "Low-Income Housing Tax Credit," written into the 1986 federal tax reform when Director of the Office of Management and Budget David Stockman and his associates realized they had eliminated previous means of incentivizing development in the early '80s during the first Reagan administration.
The quick and dirty primer goes like this: Affordable housing developers receive federal tax credits, which have been allocated to their projects by a state agency—in New York it is the Division of Housing and Community Renewal (HCR). Private corporations grant funding through syndication firms, which bundle the funding and give them to affordable housing developers in exchange for the credits.
"[Corporations] give us millions of dollars, but they get even more tax credits that they use," Mazzarella said. "Roughly, for every dollar of tax credit we give them, they give us 90 cents."
Getting those tax credits from the state is not easy.
"The competition for tax credits is extremely cutthroat and competitive," Crossed said. "The state will receive these applications in the fall and make decisions in the spring, in April there might be 120, 130 applications, and they might fund 30 or 35 of them. Something in the order of one in five gets funded."
In New York State, all projects, including those from New York City, are placed into the same pot.
"Obviously there's going to be a constant 'float of ask' out of New York," Martinez, who worked with a syndication firm, said. "In New York you have the 80/20 mixed development—you have that incentive to build affordable housing while building market rate housing."
All projects are graded by HCR on what Mazzarella calls a "points system." Criteria include things like downtown location and access to transit; green building initiatives; amenities for residents; community support; and any outside financing a developer can bring to the project.
The outside monies are where a city and region can show its support for a project, said Nels Bohn, head of development of the Ithaca Urban Renewal Agency. Cornell, the city, and county have all thrown in on one pool of money with the "sexy title of Housing Fund," which gave the Breckinridge project $200,000.
"Those multiple levels of [local] support show some strong commitment to the state," Bohn said. "It's not easy to convince multiple parties to join together and contribute on a regular basis."
What's most important to the credit-givers at HCR and the money-givers across corporate America is whether a project will "keep itself keeping on," which means showing the profit adds up over the long term. The low-income tax credits are granted for at least 15 years, and if a project goes under it does hurt the funders.
"There's quite a bit of evaluation of the project itself and the financial viability of it," Mazzarella said. "There's evaluation of the track record of the developer."
The 2014 HCR application for tax credits stretches for 70 pages and asks for professional market studies, debt and cash flow expectations, utility costs, average area incomes, and housing needs. The "free" money comes with all sorts of strings, too. For example, Mazzarella wanted a meeting room included in Breckenridge to be available to the public, since the Women's Community Building it replaced was often used for community functions.
"We put in a pretty good meeting room, but only Breckenridge residents can use it," Mazzarella said. "We asked our funders if we could make it open, and they said that under the rules, the only people with a median income same as people who live there are allowed to use it."
Keep Building
For all the obstacles before affordable housing developers, everyone, regardless of income, needs "a place to hang their hat," as Novarr put it.
Mazzarella stated it flatly: "The best way for us to make housing more affordable is to build new housing. Frankly, the amount of units we can produce in a year is a fraction of what's needed."
Typically, INHS has only two or three units open at a time. By the end of the year, when this year's projects and their merger with Better Housing of Tompkins County is complete, they'll have almost 400 units in for-sale or rental housing.
"[INHS] has grown. They have a capital base now," Travis said. "They can afford to pursue more affordable housing projects. Not at the rate the community requires, but it's better than zero."
Beyond further development on the low-income tax credit model, ideas to make more places more people can afford are mostly improvised right now.
Cosentini gets as creative as she can with her properties. Buyers of her Aurora Street properties did receive funding so they could put down the first payment on a mortgage. That meant the home's price had to stay under a certain number.
"I didn't do floors. I painted the subfloor for them," Cosentini said. "They have to do that themselves. I'm fortunate the bank was amenable to doing the subfloors like that. They might say, 'You need all your finishes, sweetheart.'"
Cosentini was salvaging materials off Craigslist to keep costs down.
"Most builders are going to have an aversion to that, because it sucks," she said. "You've got nails sticking out, cabinets not square. All kinds of [crap] like that. Nobody likes to do that. But there's stuff the university is tearing down that's perfect."
Whatever it takes, "cracking the code of affordabilty" is Cosentini's goal with her co-housing developments.
"Someone with 80 percent of median income around here gets you a white graduate student," Cosentini said. "Getting real diversity is really rocket science. That's unfortunate because that's where you get the vibrancy. I don't want to create affluent ghettos. That's no fun."
The city has maybe a half-million dollars per year to spend directly on affordable housing development, from federal Housing and Urban Development grants.
Spots must be picked, Bohn said: "The difference between affordablity and market rate is probably in the area of $70,000 per unit. We work to try and leverage that as much as we can."
Other tools the city and county might consider include zoning like New York's 80/20 model, where a developer might get an extra story or two if they promise to add some affordable units, or inclusionary zoning, which just says that a developer must build those units.
The good of all this need for places to live that don't burn holes in bank accounts? That means people want to live here. It also means INHS has fulfilled its initial purpose when it began 36 years ago, which was to rehabilitate run-down homes downtown in an era of decline.
"He's taken that organization over about 35 years," Novarr said of Mazzarella. "About the same length of time I've been in development. He's taken it from rehabbing crappy houses downtown, to building apartment complexes. That's pretty significant given it's all done pretty much with funny money."
"Our affordability problem is a consequence of we live in a very nice place," Mazzarella said. "We're fortunate to live in a community which has a strong economy and jobs are here, and people want to live here. That makes the price go up. We're kind of like an island of prosperity in the middle of upstate New York."
source:  http://www.ithaca.com/news/solving-the-affordable-housing-crisis/article_7aaaed4c-cd15-11e4-9766-1748dbbefd73.html