Pocket Neighborhoods are similar to co-housing and small lot cottage developments, except smaller in scale and cooperatively owned. The small scale allows for uncomplicated resident management and makes Pocket Neighborhoods easier to place on small urban infill lots within existing established communities. Buildings are constructed to inherently conserve energy, incorporating numerous "green" building technologies.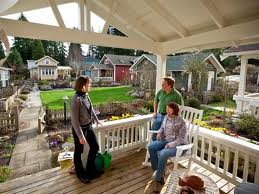 In creating The Pocket Neighborhood housing concept we focused on core issues which must be addressed in the creation of a sustainable future. Among them are the needs for the preservation of arable land and natural spaces, energy independence, local food production, intentional water conservation, and to fulfill a social need to be connected and supported, in a meaningful, engaging environment. The structures are built using the German Passivhaus technology using a proprietary building assembly to achieve ultra-energy efficiency, with a goal of carbon neutrality and net zero energy buildings.
The New Earth Living concept clusters 5-7 homes on cooperatively owned parcels forming communities similar in scale to the traditional extended family. Each community is physically and socially a vital part of a larger urban setting. These cells, called Pocket Neighborhoods, are resident managed. The homes are sited around common gardens and outdoor social/ recreational space, and are arranged to foster the use of other shared amenities.
Though physically similar to cottage development or cluster housing, Pocket Neighborhoods have an intentional social component which sets them apart. Compactness and a cooperative approach to land use create a need for cooperation and support beyond current notions of neighborliness. Recognizing that communication is essential to healthy and viable communities, New Earth Living has created a community-building communication training called, The Listening Workshop that effectively addresses this need. By removing common barriers to connection and understanding, acceptance and trust-based relationships are fostered.
Nurturing, mutually supportive relationships developed in a physical setting designed to conserve energy and facilitate interaction is the first step toward having Pocket Neighborhoods intentionally generate environmental restoration. Residents are engaged in the ongoing exploration and sharing of the sustainability principles and practices necessary to move our society toward living within the limits of our planet's finite resource base.