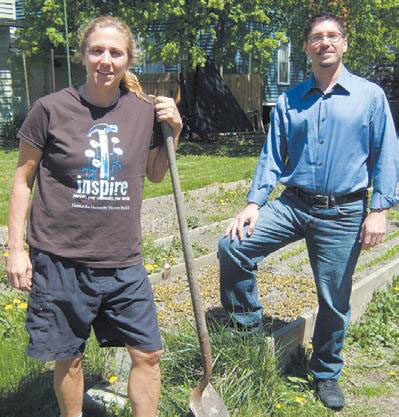 By Anne Marie Cummings in Tompkins Weekly
The Aurora Dwelling Circle (ADC) brings the principals of EcoVillage to downtown Ithaca.
Susan Cosentini, of Cosentini Construction and New Earth Living is at the helm of  ADC, a pilot project located at 519-523 N. Aurora St. She will receive $25,000, a portion of the federal grant, for energy modeling and monitoring equipment .
Cosentini expects the groundbreaking for the pilot project, with a total estimated cost of $800,000, to happen in late summer or early
fall.
As the founder and owner of New Earth Living, as well as the developer of the ADC and future dwelling circles, Cosentini is thrilled.
"Dwelling circles are small, urban eco-villages of five to eight households, supporting neighbor relationships and resource sharing, while respecting privacy and individuality," she explains. Dwelling Circles offer complete, individual dwelling units, with shared indoor and outdoor spaces for social gatherings, recreation, and other uses such as a bike garage, workshop, yard and garden, root cellar, basement storage area and a large kitchen and entertainment area available for community dinners.
One of eight advisors on New Earth Living's board is James Howard Kunstler, an expert in suburban and urban development and peak oil, as well as the author of "The Geography of Nowhere" and "The Long Emergency." "New Earth Living is doing a great job of re-thinking the way we live in the U.S.A. as the fiasco of suburbia becomes more and more self-evidently crazy," he says. Riane Eisler, another New Earth Living board member, is a social scientist and the bestselling author of "The Chalice and the Blade" and "The Real Wealth of Nations." "This paradigm shifting, comprehensive approach to living offers a new model for people to live in partnership with each other and the earth," she says.
The ADC was born last summer during a conversation between Cosentini and Rob Morache, designer for New Earth Living and president of New Earth Strategies, a consulting firm providing design and development planning for builders and developers. "We are really trying to make a project that gives higher density development," says Morache, "but we didn't want higher density development to overwhelm the neighborhood." Morache explains that the North Aurora Street site comprised of two adjacent lots, one with a house on it and the other empty. "The existing house will be spruced up, renovated, and be part of the ADC," he says. "A traditional two-family house, with a unit on the first floor and a unit on the second floor, will be built on the empty lot." Two barns are also on the site. They will be dismantled by Finger Lakes Reuse and replaced by a three–story, two-family structure and four garages that face an alley. Above the garages will be a three-bedroom unit and a two-bedroom unit. Cosentini says that the ADC will be ultra-energy-conservative, from building and mechanical materials, to location and site planning. And the concept will also move beyond its footprint. A district bio-mass boiler will service all four homes in the pilot project, as well as two adjacent homes that are not part of the ADC. The ADC buildings will include soy foam insulation in the walls and cellulose in the ceilings, windows will have soy foam insulated fiberglass frames, foundations will use 40 percent fly-ash (a recycled waste product from coal burning), countertops will be solid recycled plastic (with alternate green options) and flooring materials will be natural fiber carpet on recycled cotton pad, ceramic tile, and pre-finished hardwood.
Also part of the DNA of the ADC is that member- owners will participate in what is called "The Listening Workshop" as part of the initial gathering of the circle. "In the age of cheap oil," says Cosentini, "we have been able to isolate ourselves from each other, but in turn are losing our communication abilities. The workshop will focus on communication skills that can allow us to live closely together."